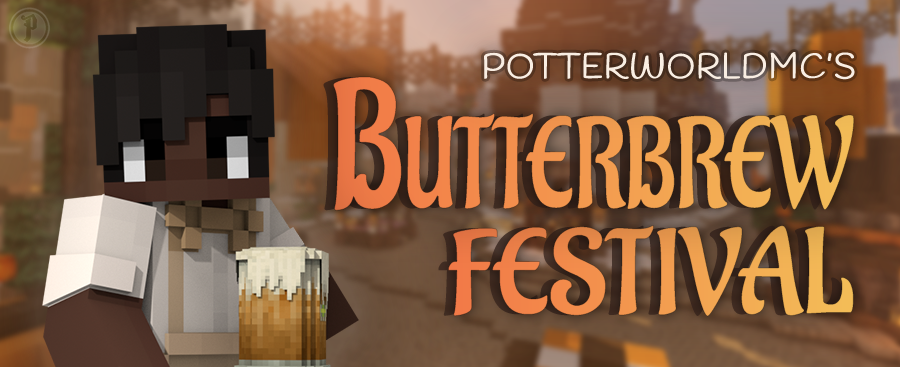 All Hogsworth students have been invited to attend Hogsend's Butterbrew Festival! Grab a mug of Butterbrew with your friends at the Broomsticks Inn while enjoying the new themed quests, minigames, and rewards! Join the celebration until October 9 by speaking to Kevin at the Great Hall.
Main Quests
In your Quest Journal, you will see a new icon for the Butterbrew Festival Event. There are five new main quests located in Hogsend and completing all of them will provide event tokens to purchase exclusive rewards.
Repeatable Content
There are two new Side Quests that can be completed once per twelve hours for Event Tokens. You can locate starting coordinates as well as track your cooldowns for these in your Quest Journal!
You can also earn Event Tokens by completing mazes, droppers, or parkours at the Games NPC. This year, we've brought back some old favorites as well as introduced a new Pensive Dropper! All of the minigames in /games will reward additional Event Tokens for the duration of the event.
Rewards
You can purchase several new rewards with Event Tokens at the Rewards NPC in front of Honeysweets. Here, you can also exchange Event Tokens for Gold at a 1 to 1 ratio. The list of rewards are as follows:
- Barrel Bomb Spell
- Butterbrew Toast Emote
- Butterbrew Moustache Emote
- Butterbrew Chugging Race Emote
- Oblivium Scarf
- Brewery Scarf
- 2021 Butterbrew Tankard
- 2020 Butterbrew Tankard
- Butterbrew Festival 2021 Token
- Butterbrew Festival 2021 Banner Set
We hope you all enjoy your time at the Butterbrew Festival! The celebration will end on October 9th at 12:00pm PST
Credits
Content Creation:
AshTM, Expiroces, FrostyObsidian, HeyLookBunnies, jenily, Krixkal, Laingy, mckennq, Miss_Strudel, SalamiBaby123, Sorcellerie, Tangular123, Teheeo, TeknoPsycho, Tilllyy, xAutumnn
Event Builds:
BurntBananaSplt, Sorcellerie, Ardnassaz, CherryBud, eimly, xNiels_, Lbby, xTori_, trashdotcom, Tilllyy, PotatoEmma
Skins:
Bertnana, Bloopish, Bwunie, Ralie, SalamiBaby123, Sorcellerie
Testing + Feedback:
FrostyObsidian, AshTM, SysterTM, viewful, Teheeo, VynVibes, 0ceqn, HektorTM, SLGMatt, SLGTara, sushicle, KipxLaetus, Invisibilia, PinkWeezie
Other:
Mobs - Zmooya and apaulled
Spells - Zmooya and apaulled
Banner - Teheeo
Last edited: