​
It brings us much excitement to announce that we finally have a place where you can try most of our items from the store! This is to ensure you really like what you want to buy, before actually buying it - and maybe you see something else that you end up falling in love with.
We're calling this place the 'In-Game Store' and you can get there using /me, or by interacting with the many NPCs we have placed in a ton of areas all over the world.
When you get here, you will receive a store wand and a store broom. This wand will have some spells you can try out with the store items you're trying out, and the broom is for the broom appearances - the broom will be incredibly slow as it's only there for display purposes
Note: You have to be on a world to join the in-game store. You cannot be on housing, the hub, minigames or classes.
Want to see how it works?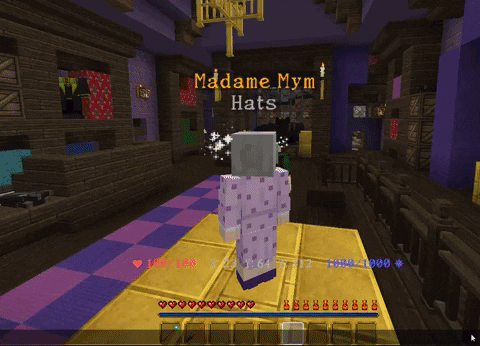 But that's not all! With this release, we're also releasing our new wand rename system, and policy.
Edit: It's back!
Due to an unexpected issue, this store item has been disabled - we will bring it back in the upcoming days, apologies for the inconvenience
Let's talk about the policy:
You can now have up to 50 characters in your wand name (excluding colour codes).
You can have as many colours as you like - so yes, you can have a rainbow name.
You no longer need to contact staff to get your wand renamed, but any inappropriate names or names that go against our rules will get your wand rename removed. We get notifications when a wand rename has happened, so if we see anything inappropriate, we will react immediately.
Your wand name will now be saved, so you can switch between your wand rename, and your other renames from your package purchases - you can still only have one custom wand rename.
Let's talk about how it works:
When you purchase a wand rename, you will receive a 'Wand Rename Token'.
You can then do /wandrename to open an interactive GUI that lets you change your wand name. You simply type the name in chat, and it'll show the game as a confirmation. Make sure it looks like what you want it to look like.
And boom! You should now have your new wand name, and you can use the wand name menu to change between your wand names.
If you, for whatever strange reason, don't get your wand name- fear not! Simply type /wands -> wand names, and apply your name there This is using some muggle technology... and we know that's always prone to not working the way we expect it to.
We hope you enjoy these two additions - these are very long-awaited changes!
Last edited: