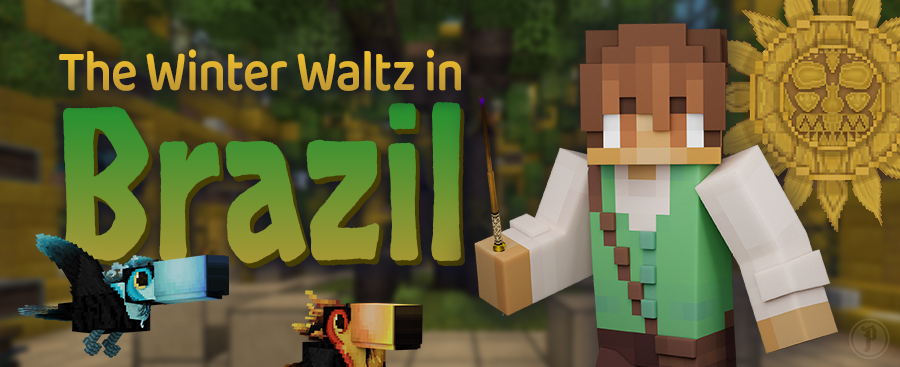 The annual Winter Waltz is upon us, and this year we will be meeting some new friends! Headmistress Sampaio has invited Hogsworth students to celebrate the holiday festivities at Castelomagia, Brazil's School of Magic! Speak to Kevin just outside of the Great Hall to begin your magical journey into the rainforest. Meet the school's professors and students as you explore the stunning Brazilian castle.
---
Uniforms
If you would fit in amongst the other students at Castelomagia, you can get your own uniform for yourself with one of our downloadable bases! Figure out which of the Castelomagia houses you would belong in via the Tropical Winter Waltz Quest and coordinate with the Castelomagia students at this year's Winter Waltz!
Feminine Presenting
Animália
Masculine Presenting
Animália
Feminine Presenting
Estória
Masculine Presenting
Estória
Feminine Presenting
Primavera
Masculine Presenting
Primavera
Feminine Presenting
Aurólia
Masculine Presenting
Aurólia
---
Quests
In your questbook, you will see a new icon for the Winter Waltz Event. This will be accessible throughout the entire event and will be disabled after the event ends. Upon completing quests, you will be rewarded Snowflakes! There are both one-time completion main quests and side quests that reset every twelve hours! All of the quests are at Castelomagia.
Aviary Adventure
Go to the Aviary and meet Professor Ramos, Castelomagia's Magical Creatures Professor! Brazil is home to a magical elemental species of toucan called a Conucko. Students use their feathers in traditional Castelomagia holiday wreaths, but this year there are fewer feathers than normal... Progress through this questline by finding Conucko Eggs around the build, earn them by completing side quests, or incubate them by playing minigames! These eggs can be used to unlock the next quest in the series and collectively work towards a final reward with your fellow students!
Repeatable Gameplay
Practice your stargazing skills by speaking to Galileo Galilei at the very top of the castle in order to claim all 16 different Advent Calendar days stocked with various exclusive and unique rewards.
Hogsworth students weren't the only ones invited to Castelomagia this Winter Waltz! Speak to students from each wizarding school in the courtyard outside Castelomagia's Great Hall to play droppers, parkours, mazes, elytra, and ice skating to earn additional Snowflakes!
Snowballing, Sledding, and Wand Spleef have returned to /games for the duration of the event, and playing them will reward Snowflakes.
Right outside the Great Hall, a Daily Taskboard will reward additional bonus Snowflakes for completing its daily challenges!
Rewards
You can purchase a ton of rewards with Snowflakes just outside of Castelomagia's Great Hall. We have a few old rewards, as well as some newer ones! Additionally, for every quest and daily activity completed, you will earn one Winter Waltz Exclusive Choco-Hop Card. Complete the full set of 24 cards to unlock a special collectable! You can also trade Snowflakes in for Gold at a 1 to 1 ratio at the Rewards NPC.
---
Credits
Content Creation:
HeyLookBunnies, Katallight, Laingyy, Lenz_S, maddinq, Miss_Strudel, Sorcellerie, STREETRATJENN, sewerratss, sushicicle, TeknoPsycho, Tilllyy
New Event Builds:
trashdotcom, xNiels_, JustMaxHell , CraftyKanna, Cercaa, eimly, Etgar_,fleurtje0726, tillyyy, Lbby, 0ceqn, Ardnassaz, BurntBananaSplt, chail3y, tiffanyphobia, xTori_, ForbiddenPlaces
Lore:
tqrpiar, mn164, jisunize, xMye
Skins:
Bertnana, Bloopish, Bwunie, polkasdot, queenofspacerats, Ralie, SeoulMates, Sorcellerie, sqrra, zZalt
Testing + Feedback:
0ceqn, AzureAsh, CraftyKanna, grucifix, invisibilia, KipxSateee, marmitemira, SLGMatt, sushicicle, Tangular123, TaraTheDragon, Teheeo, Thrashaba, VynVibes, xMye
Other:
Graphics - Prin_ce
Models - Droobledore and Sunnya
Mobs - Zmooya and FrostyObsidian
Spells - Zmooya and FrostyObsidian
Grinch Predictise Model - Droobledore
​