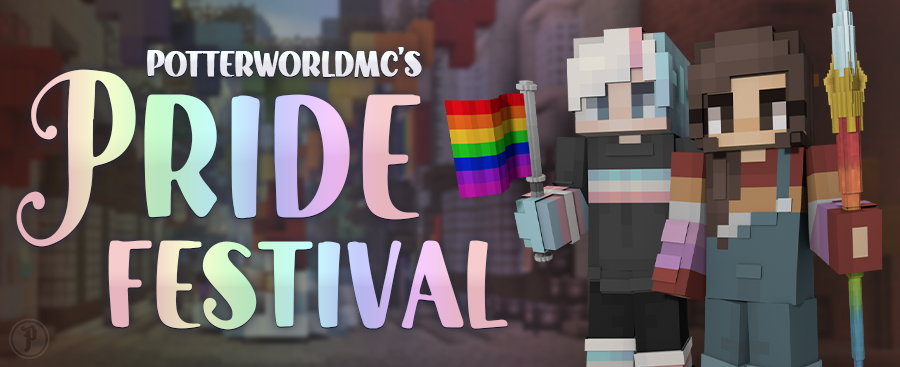 This year, LGBTQ+ wizards from across the world are gathering at Diagonal Lane for a Pride Festival! Help prepare for the big parade and gather components to create a colourful Pride Staff. You can join the celebration for the rest of June by speaking to the NPC outside the Great Hall.
Quests
In your Quest Journal, you will see a new icon for the Pride Event. There are three new main quests as well as one new daily quest that can be completed once per twelve hours. Use your Quest Journal to find starting coordinates as well as track your daily quest cooldowns.
Pride Staff
Speak to the Alchemist in Carket Market to learn how to unlock a brand new Pride Staff wand appearance. Complete a series of challenges to find the right materials, then demonstrate your support of the LGBTQ+ community by showing off a flashy new wand!
Games
All minigames in /games now reward Pride Tokens! Play them with your friends to progress towards unlocking exclusive rewards.
Rewards
You can purchase several rewards with Pride Tokens at the Rewards NPC at the beginning of the float parade. The purchasable rewards include:
- Pride 2021 Scarf
- Pride Flag
- Pride Festival 2021 Token
- Gift Bag (Can be opened to receive candy, a Pride Cake, or a Pride Rose!)
- 10 LGBTQ+ Flag Banners
- Pride Festival 2021 Banners
We hope you all enjoy celebrating Pride Month with us! The event will conclude on July 1.
Credits
Content Creation:
FrostyObsidian, JustMaxHell, Miss_Strudel, SitrusGirl123, and TeknoPsycho
Event Build:
Cercaa and Tilllyy
Skins:
ateleir, Bloopish, Bwunie, kqela, Ralie, SitrusGirl123, Sorcellerie
Testing + Feedback:
0ceqn, AzureAsh, Cateo, daance, FrostyObsidian, Invisibilia, KipxSateee, PinkWeezie, SLGMatt, SLGTara, SysterTM, Teheeo, viewful, marmitemira
Other:
Mobs & Spells - apaulled, Joshios, and Zmooya
Banner - Sunnya
Discord Icon - CrymsonTM
Pride Staff Model - Sunnya